When Emily first went to Peru, one little boy who captured her heart was Pepe.  (This was a familiar nickname the people at New Hope had given him.)  His mother had thrown him out of her house and made him live in the barn with the animals from a very early age.  He had been rescued and placed in New Hope.  Emily met him when he was ten years old.  He was a lovely, loving little boy, clearly emotionally scarred, and Emily worried about him.  She had her mother knit and send him a bespoke loose tunic, as he was a chunky little character and regular jumpers didn't seem to fit.
When the time came for Emily to leave for home, to go back to her regular work in London, he asked who was going with her.  He was horrified when he learned she would be travelling alone.  Despite her assurances, he was unhappy that no-one would be looking after her.  He proceeded to fetch his only personal toy, a large dog, and insisted she take the dog with her … for protection, of course.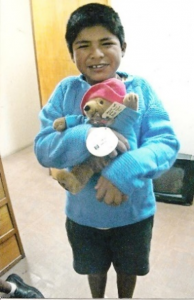 She tried very hard but failed to dissuade him from his plan, and she and her new companion were obliged to leave together.  (Just what she needed on a long Trans-Atlantic journey.)   When she returned later that year to New Hope, she brought him in exchange a toy Paddington Bear.  (Incidentally, Paddington Bear was completely unknown in Peru until the relatively recent movie arrived there.  Clearly, he was from Darkest Peru.)
As puberty struck, with the immensely difficult turmoil and disturbance of his early years no doubt to blame, Pepe became a difficult and awkward child.  For the sake of the other children he was disturbing, New Hope had reluctantly to allow him to be taken away, effectively with Special needs status, into a State Home.  He spent some time in a Home near Lima before being returned to a similar Home in Arequipa.  These are not happy places, and the children are subject to what can best be described as a very strict regime.
Emily was quite distraught at what was happening to Pepe, and made strenuous efforts over the following years to try to find alternatives and help him, contacting New Hope frequently about possibilities and searching for options.  We still recall sitting in her bedroom at home making international calls to talk to people, particularly from New Hope, about what could be done.   What would be done, however, was in the hands of the Peruvian legal system, and what a judge said was what happened.  Pepe was kept in Inabif, a state home; at least it was in Arequipa, and New Hope were (sometimes) given permission for Pepe to visit for an evening and meet up with children there.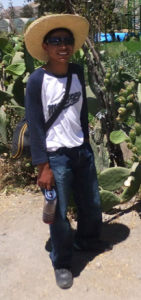 When we inherited Emily's worldly goods, we also inherited her hopes and plans to help Peruvian children – including Pepe.   When we visited in 2015 New Hope were unexpectedly given permission to collect Pepe to attend a twentieth anniversary Sunday picnic in a huge, nearby local park.  Between Inabif and the park, we managed to kit him out with a sombrero, cool shades and – essentially – a Peru football shirt.
He enjoyed the day, spending most of it in a marathon game of football with the New Hope children.  Taking him back to Inabif was a sombre moment.
The efforts, and judicial intransigence, continued until the following year when, on our second (and so far last) visit, he was allowed to go with the New Hope children to attend a huge dance competition that is held annually between the many Children's Homes in Arequipa.  (Casa Hogar El Amor de Dios won.)  We saw him again a few days later, when we were able to give him a mp3 player as a birthday present.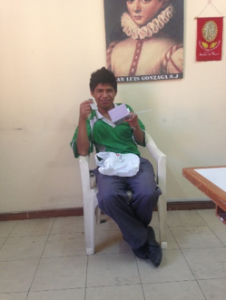 Roll on 2018…  and his 18th birthday.  Well before he was seventeen, we had encouraged both Homes with which we were involved to look for somewhere for him when he became an adult, and theoretically the State would no longer take responsibility for him.  A Christian lady persuaded her husband to take him in and work on their farm.  However: we discovered in the months prior to his turning eighteen that, although nominally an adult, in the absence of anyone willing to look after him his Special Needs status could well mean he would be transferred into a different state institution – effectively for life, to live alongside people with severe mental and physical disabilities.   The conditions under which he would be discharged from Inabif into someone else's care were arduous, and the farmer had second thoughts.  We again encouraged both Homes with which we were involved to make efforts to find him a home and employment.  A number of options were considered, but a friend of his family – someone who had known his mother, and been like an "aunt" to him when he was little – was found, and was happy to take him in – indeed, had apparently been looking for him.  And so, he at last left to be with a family again…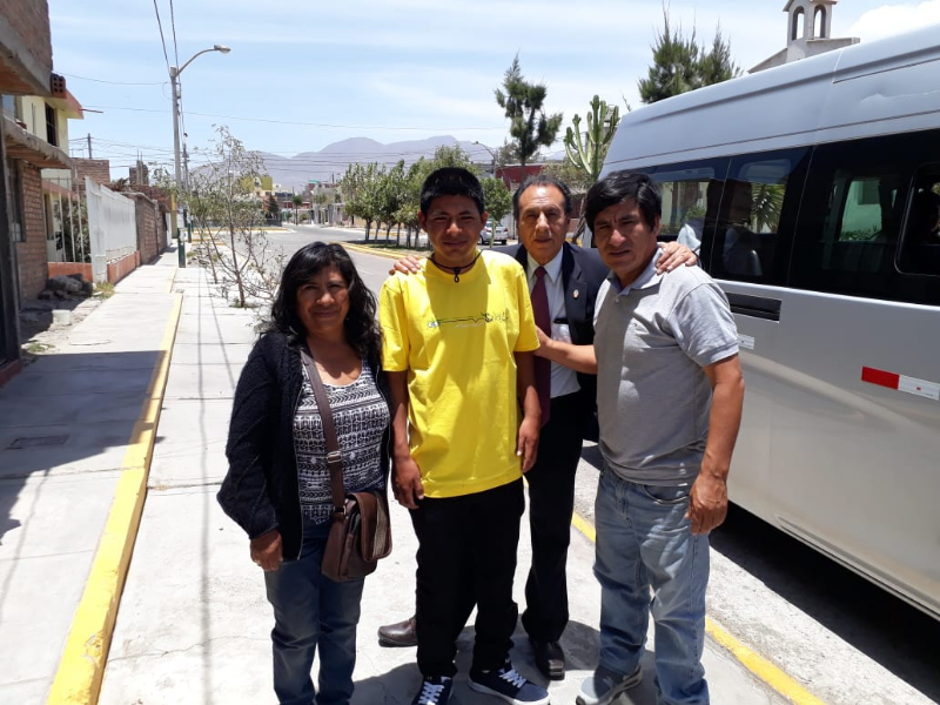 The aunt Señora Silvia Calcina, Pepe leaving Inabif at 18, an Inabif official, and Jose (El Amor de Dios).
We are really grateful to all involved who have demonstrated the love of God in giving him a fresh start after a traumatic early few years, rescue, emotional problems, being institutionalised, never being forgotten, and at last being found a new family home.  Jose (above) and Bertin at New Hope are in regular touch with the aunt, and Pepe is employed, currently working with a cousin, maintaining the bed and breakfast premises run by Señora Silvia Calcina.
And the dog lives a quiet life with us…